Master Liquidators
FRANCHISE OPEARTIONS
BUSINESS PROPOSAL
Web: www.masterliquidators.ca
PowerPoint Presentation
MAY, 2010
1. Executive Summary
The Master Liquidator is a dollar store like setting that provides interesting merchandise options at bargain prices.
The new stores will be formed as incorporated companies. The investors will be treated as shareholders and therefore will not be liable for more than their personal investments. With an aggressive marketing plan the Store expects to experience steady growth as it becomes more and more familiar to the general public than it already is.
With proper financing the Store will be able to successfully open and maintain operations throughout from first year onwards. The capital investment of the owner (bank loan + Personal Investment) will provide the public with a store that will cater to the needs of those on fixed incomes such as low income families, the elderly, and the large student population in the Lower Mainland area. The successful operation of the Store will provide a customer base that will allow it to be self-sufficient.
Back to Contents

2. Introduction
Master Liquidators is an exclusive opportunity to start one's own small scale business while receiving support from the franchisor. It offers a setting where one can be their own boss and get the necessary help and training to run the business on their own.

The Franchisor will provide full support in completing the store, purchasing inventory, properly selecting products, training, and advertising, as well as internet and web sales. Inventories provided by Master Liquidator will include: tools (including power tools, saws, blades, kitchen items, etc.); greeting cards; "As seen on TV" Items; electric scooters, ATVs and other vehicles; as well as vast selection of dollar store items. Key cutting services and lottery will also be present. Prices on all of these items are highly competitive, making the store very attractive to customers and unbeatable for opponents.
Back to Contents

2.1 Investment
The total investment will be $94,000 with $25,000-$30,000 worth inventory at cost. The sale value of the store is $100,000.

Financing Options:
Cash Investment
Bank Loan
No Interest Vendor Financing
The investment will be used for replenishment of inventory.
The building will be leased for $2,000 per month.
More than 10 stores locations have been identified in Lower Mainland (including Abbotsford), which will be offered for franchises after start up. Investments are more likely to increase in the future.

Back to Contents

2.2 Objectives
1. To provide a wide range of merchandise at reasonable prices.
2. To achieve a healthy profit margin within the first year.
3. To achieve a modest net profit by mid first year.
4. To be an active and vocal member of the community, and provide continual re-investment through participation in community activities and financial contributions.
Back to Contents

2.3 Mission
Master Liquidators provides a variety of interesting merchandise options at bargain prices. Dedicated to customer service the Store gives its patrons the kind of service that is respectful and prompt. Employees of the future Stores will also be treated in a professional manner with a rewarding work environment and fair compensation. The master liquidator Stores want each customer to feel as though he/she has gotten Downtown treatment at a bargain price.
Back to Contents

2.4 Keys to Success
To succeed in this business the master liquidators:
• Sell a broad range of products.
• Provide for the satisfaction of 100% of our customers.
• Encourage customer input.
Back to Contents

3. Products
The master liquidator stores will sell a variety of quality discount merchandise. The types of merchandise they will carry include items such as dishware, household goods, toys, cosmetics, candy, greeting cards, as seen on TV items, ATV's, scooters and a list of items too exhaustive to list here. The merchandise is purchased from a variety of manufacturers and will be obtained locally. Shipments will arrive on as needed basis which will help prevent over stocking. The franchisor and the franchisee will continue to find new product lines that can be added to the inventory.
The stores will sell products at very low prices, because they will purchase items from the franchisor, who will purchase in wholesale from the manufacturers that will reduce the cost of buying and thus lower prices as compared to the costs provided by the local dollar stores.
Back to Contents

4. Market Analysis
The store expects sales to increase steadily as consumers find that they can purchase a variety of quality items at bargain prices. It intends to tap into the retail market with pricing that will encourage quantity buying, and the pricing will attract consumers on fixed budgets.
The store's target market is the lower income portion of the community. This includes working class individuals, the elderly, and students, many of whom are price conscious and looking to find a value for their dollar.
Back to Contents

4.1 Industry Analysis
In an ever changing economy the discount store model is becoming more popular with the consumer. Providing a large selection of bargain-priced items is the intended goal of the company.

4.2 Competition and Buying Patterns
Consumers demand quality customer service, fair pricing, and a convenient location.
Competition is negligible due to prime location and non existence of such stores in vicinity. The selection of the merchandise is also a very important factor which will help the store in being competitive.
The location, as said before is a very important competitive edge. The new stores (franchisees) locations will be carefully analyzed by the franchisor. Locations with high appeal to many different kinds of consumers with good mix of high and low end shops with several quality restaurants and fast food places near by will be the priority. Easy access to location will be another factor that will help in deciding the start up.
Back to Contents

4.3 Competitive Edge
Another competitive edge the store has is the large variety of merchandise it will carry. With the current sources of the existing owner it is possible to carry many name brand items at a discount price. Add a staff committed to providing great customer service will be an attractive stop for the consumer.

4.4 Strategy and Implementation
The Company uses a strategy of total market service. Its promise is in its location and the products they sell, the people they attract, and the atmosphere they create.
The company will present stores that are pleasant to shop in with a large variety of merchandise to choose from.
Ultimately, they are selling more than just merchandise. They are selling themselves. They want to provide the kind of customer service that will provide an atmosphere that creates a positive shopping experience for their customers.
Back to Contents

4.5 Strategic Assumptions
• Every person with income limitations or on fixed incomes is a potential customer.
• Marketing to these segments of the population will lead to an expansion in overall market growth.

5. Financial Projections, Sales Forecast and Cash Flow Assumptions
1. Assumptions
• Cost of Goods sold is 40% of sales.
• Sales will increase at a rate of 2.5% after the first 6 months.

Financial Analysis

Chart 1: Annual Cash balance growth for the first three years.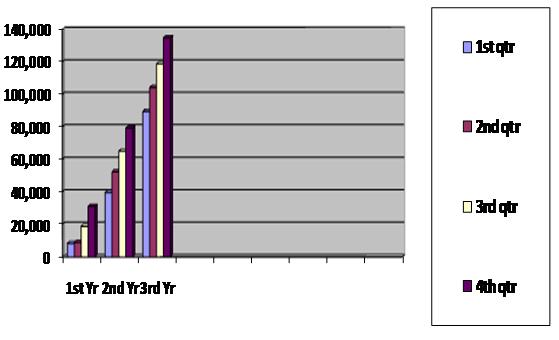 Back to Contents

Chart 2: Annual Sales growth (quarterly)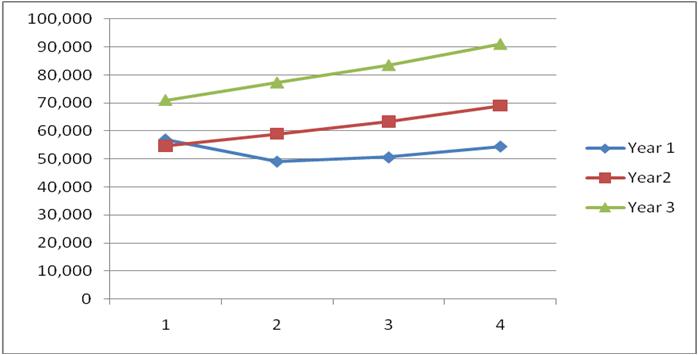 Note: The Financial Statements enclosed are based on a $94,000. The new financial statements for $54,000 are not yet received from the seller. The same will be provided as soon as received.